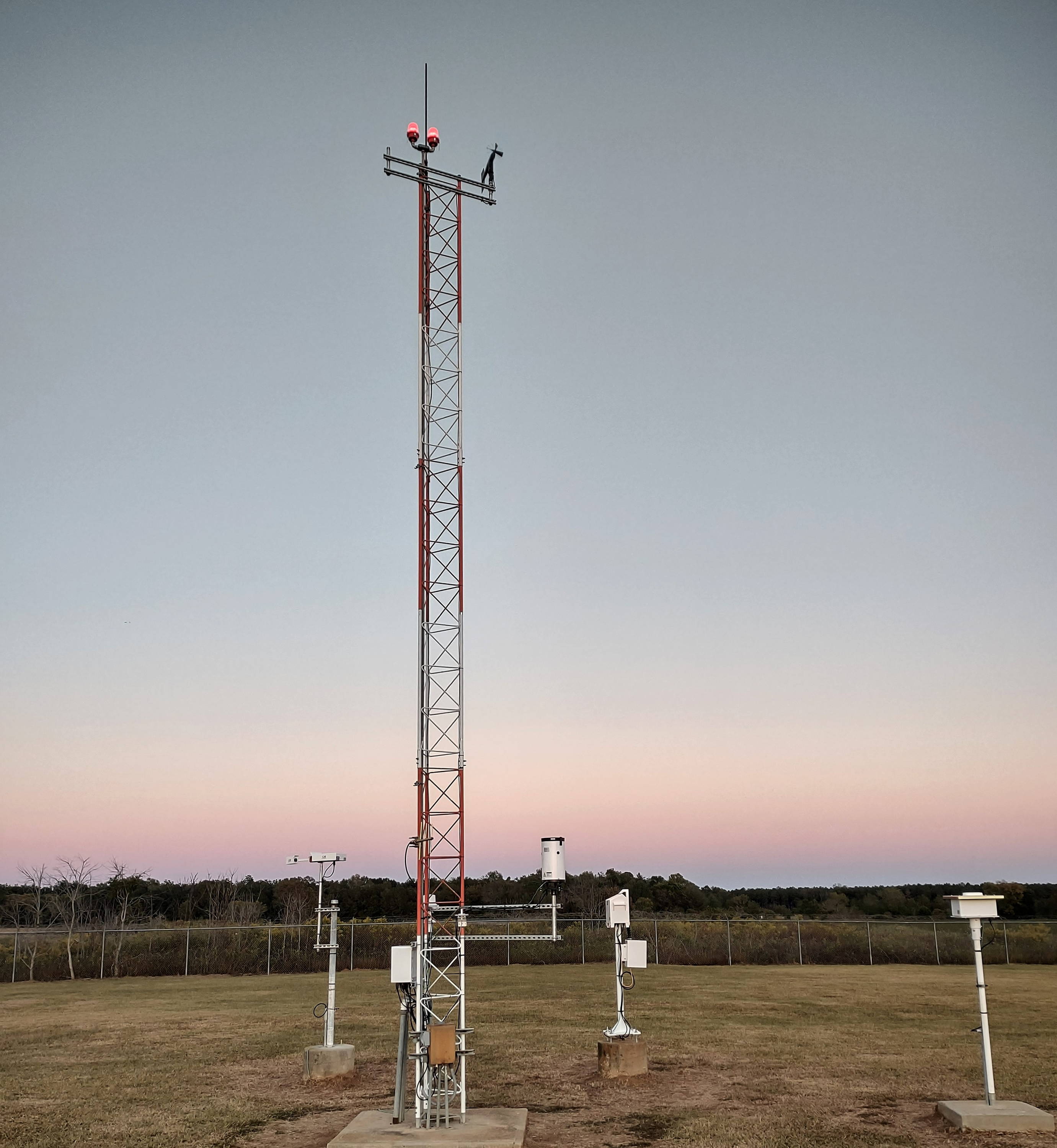 Mesotech Replacement AWOS Installation at Jimmy Carter Regional Airport, Americus, Georgia
Keegan Martin / Mesotech International, Inc.
Americus, Georgia (October 14, 2022) – Mesotech installed and commissioned an Airport Weather Advisor® AWOS-3PT Automated Weather Observing System (AWOS) at Jimmy Carter Regional Airport (KACJ) in Americus, Georgia on October 14, 2022. Airport Weather Advisor® is the flagship product of Mesotech International, Inc., a Sacramento, California based manufacturer of meteorological instrumentation systems. The new AWOS supports aviation safety by providing automatic, up-to-the-minute weather reports to pilots via radio, telephone, or the internet, and is monitored remotely by Mesotech's support staff to ensure the system operates smoothly year-round.
The new Airport Weather Advisor® installation at Jimmy Carter Regional Airport replaces an obsolete system and brings new capabilities to the airport. The installation was performed by Mesotech. The AWOS-3PT system at KACJ includes sensors that measure wind, temperature, relative humidity, barometric pressure, visibility, sky condition, precipitation and detect thunderstorms. Mesotech's cloud-based AWOS Live platform provides streaming, up-to-the-second weather data to the airport and community via a public website.
---
The airport's new AWOS is supported by Mesotech's remote monitoring capabilities. Mesotech's support team monitors the health of the system remotely and can diagnose and assist in repair activities from Mesotech's headquarters in California.
---
These capabilities allow for better availability, faster time to repair, and lower repair costs than competing AWOS. Potential failures are identified sooner and resolved more quickly, lessening the impact on airport personnel as well as passengers and pilots flying through the airport.
Americus, Georgia is the home and birthplace of Habitat for Humanity which has helped over 60,000 families build simple, decent, affordable houses, but the city has so much more to offer to tourists and locals alike. Stay at the Windsor, the Queen Ann style hotel in Americus built in 1892 to entice northern tourists to visit during the winter months and visit the Thirteenth Colony Distilleries, the only craft distillery in the state of Georgia or take in a show at the Rylander Theatre. Americus is a ton full of history with a constant eye toward the future.
Jimmy Carter Regional Airport, previously known as Southern Field, is a public airport located four miles northeast of the central business district of Americus in Sumter County, Georgia. The airport has two paved asphalt runway and covers 378 acres at an elevation of 471 feet above mean sea level. The two asphalt runways are identified as 5/23 and measures 6,021 x 100 feet (1835 x 30 meters) and 9/27 which measures 3,787 x 75 feet (1154 x 23 meters).
Southern Field was one of 32 Air Service training camps established after the United States entered WWI. The field was deactivated, and the aircraft sold at the end of the war. One of these Southern field aircraft, a Jenny with a brand-new OX-5 engine, was bought by Charles Lindberg. A statue commemorating his 1927 solo flight across the Atlantic was erected in 1992. In 2009, the field was renamed the Jimmy Carter Regional Airport by the Americus and Sumter Country Airport Authority.
About Mesotech International, Inc. 
Mesotech International, Inc. is based in Sacramento, CA and has designed, manufactured, and installed meteorological monitoring systems for over 30 years. Mesotech's flagship product is Airport Weather Advisor®, an FAA certified and ICAO-compliant Automated Weather Observing System (AWOS). Airport Weather Advisor® enhances flight safety for civil and military aviation through accurate, reliable automated weather reports delivered to pilots in the air and worldwide via Mesotech's AWOS Live cloud platform. Mesotech is a US Air Force prime contractor, supporting 200+ military sites worldwide and was awarded Region IX Small Business Prime Contractor of the Year in 2014.

→ Connect with Mesotech International, Inc. at www.mesotech.com and on LinkedIn, Facebook, and Twitter.