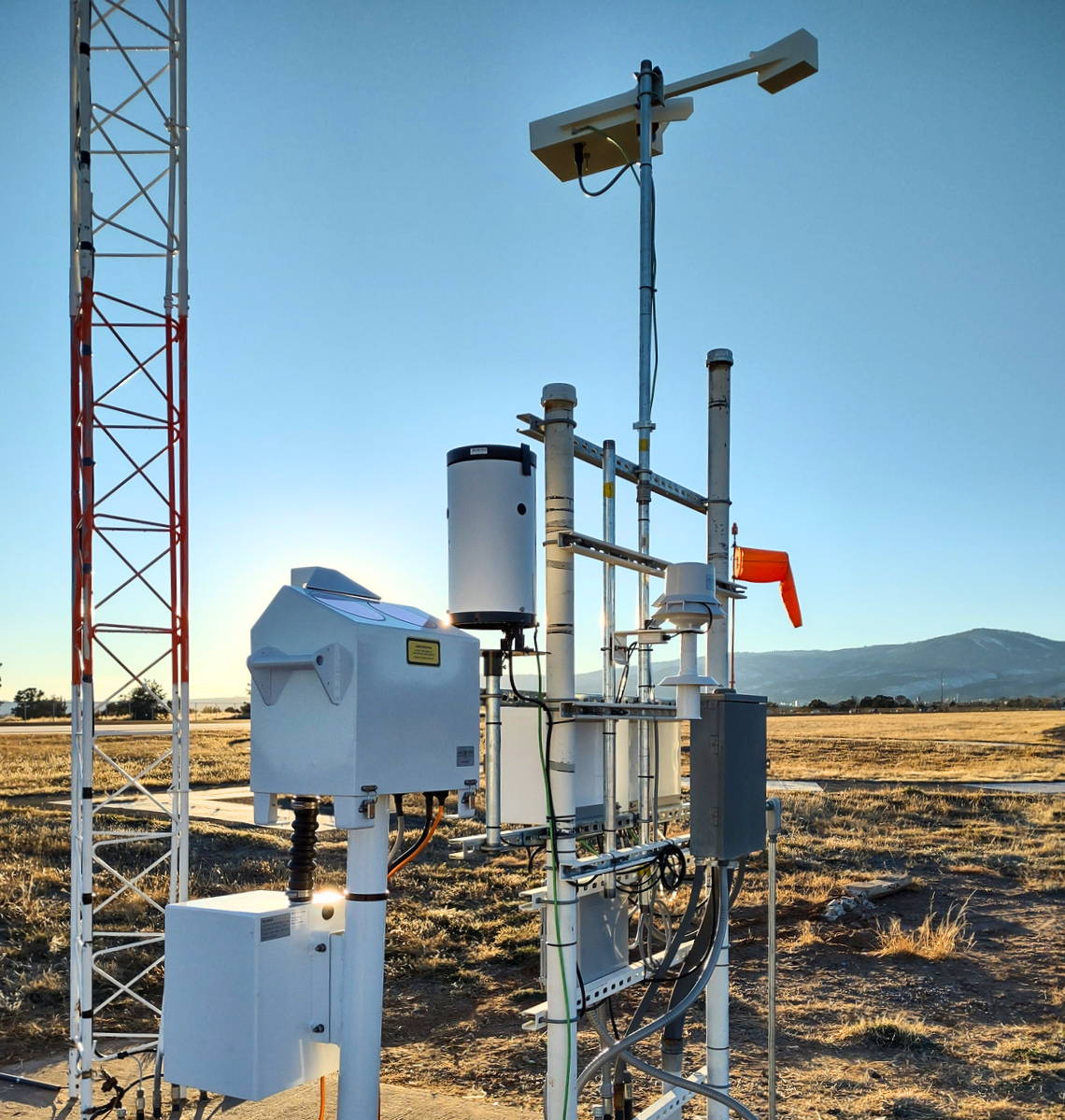 Mesotech AWOS IIIPT installation at Los Alamos County Airport (KLAM) in Los Alamos, New Mexico
Keegan Martin / Mesotech International, Inc.
Los Alamos, New Mexico (November 18, 2022) – Mesotech commissioned a new Airport Weather Advisor® AWOS-3PT Automated Weather Observing System (AWOS) at Los Alamos County Airport (KLAM) in Los Alamos, New Mexico on November 18, 2022. The installation was performed by Mesotech and assisted by York Technical Resources. 
Airport Weather Advisor® is the flagship product of Mesotech International, Inc., a Sacramento, California-based manufacturer of meteorological instrumentation systems. The new AWOS supports aviation safety by providing automatic, up-to-the-minute weather reports to pilots via radio, telephone, or the internet, and is monitored remotely by Mesotech's support staff to ensure the system operates properly year-round. An AWOS-3PT monitors wind, temperature, relative humidity, barometric pressure, visibility, sky condition, precipitation, and detects thunderstorm. Accurate wind readings are of particular importance to Los Alamos County Airport and the new system reports automated weather reports to the FAA, making weather data available to the public. Weather data is also available through Mesotech's cloud-based AWOS Live weather platform app. AWOS Live allows anyone with an internet-connected computer or mobile device to view live streaming weather data from the airport.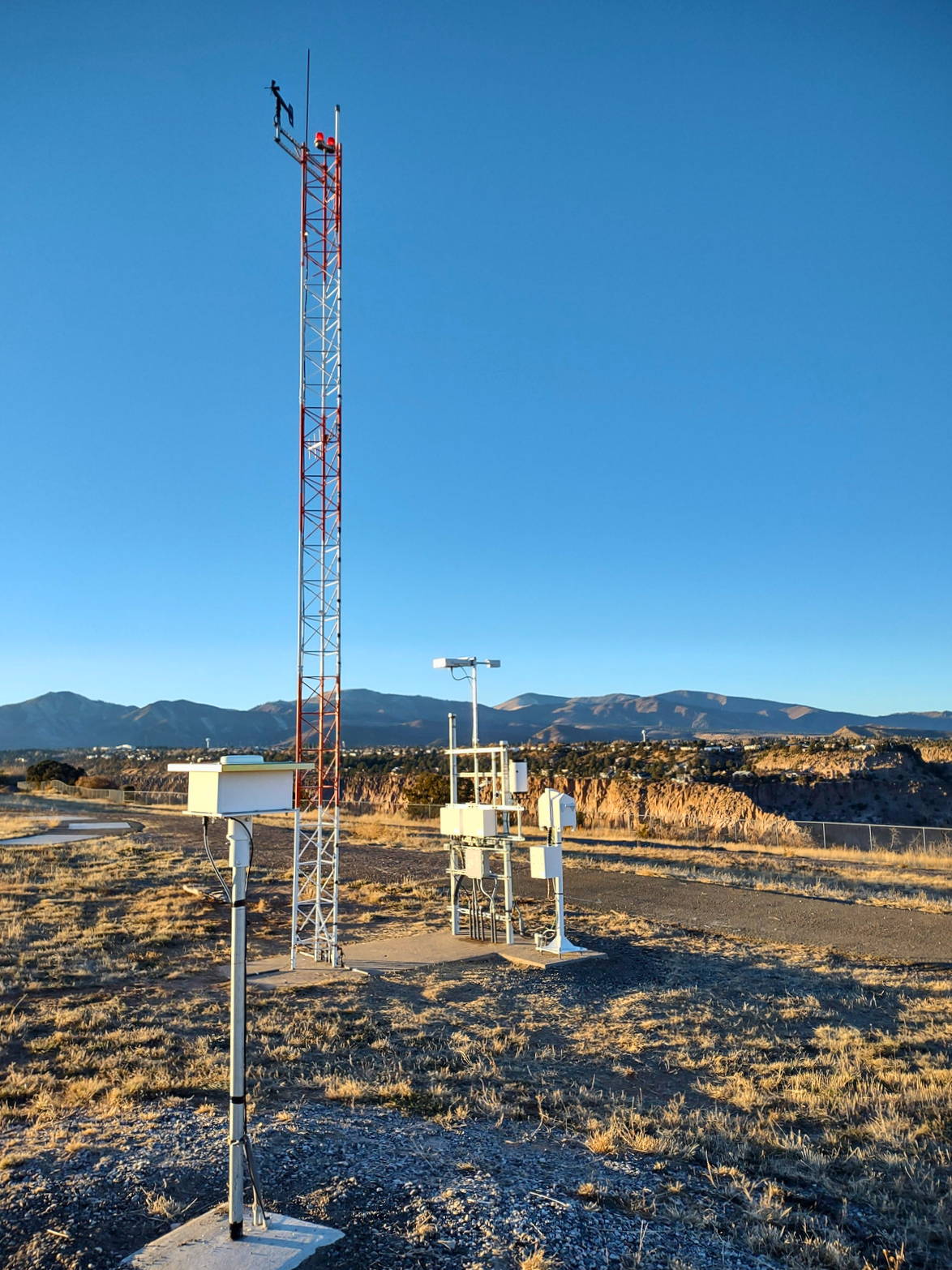 Mesotech AWOS-3PT includes thunderstorm/lightning detection at Los Alamos County Airport (KLAM)
Keegan Martin / Mesotech International, Inc.
Once known as the Secret City, Los Alamos is located on four mesas of the Pajarito Plateau, a volcanic plateau primarily composed of Bandelier Tuff. The Bandelier Tuff is a voluminous deposit of volcanic tuff laid down by a pair of eruptions from the nearby Valles Caldera. During World War II, Los Alamos was the home of the Manhattan Project and is famous for its large groves of aspen trees which are distinctly visible during the autumn months because of their spectacular colors.

Los Alamos is a city with something for everyone. Famous for its science and technological innovation with the Los Alamos National Laboratory, the city has so much more to offer. Los Alamos also has a summer concert series, high altitude recreation atop Pajarito Plateau and White Rock, ancient history from the volcanic eruptions of a million years ago to the early settlements of the Ancestral Pueblo people, and it is the gateway to three national parks. There is something for everyone in this beautifully stunning desert city.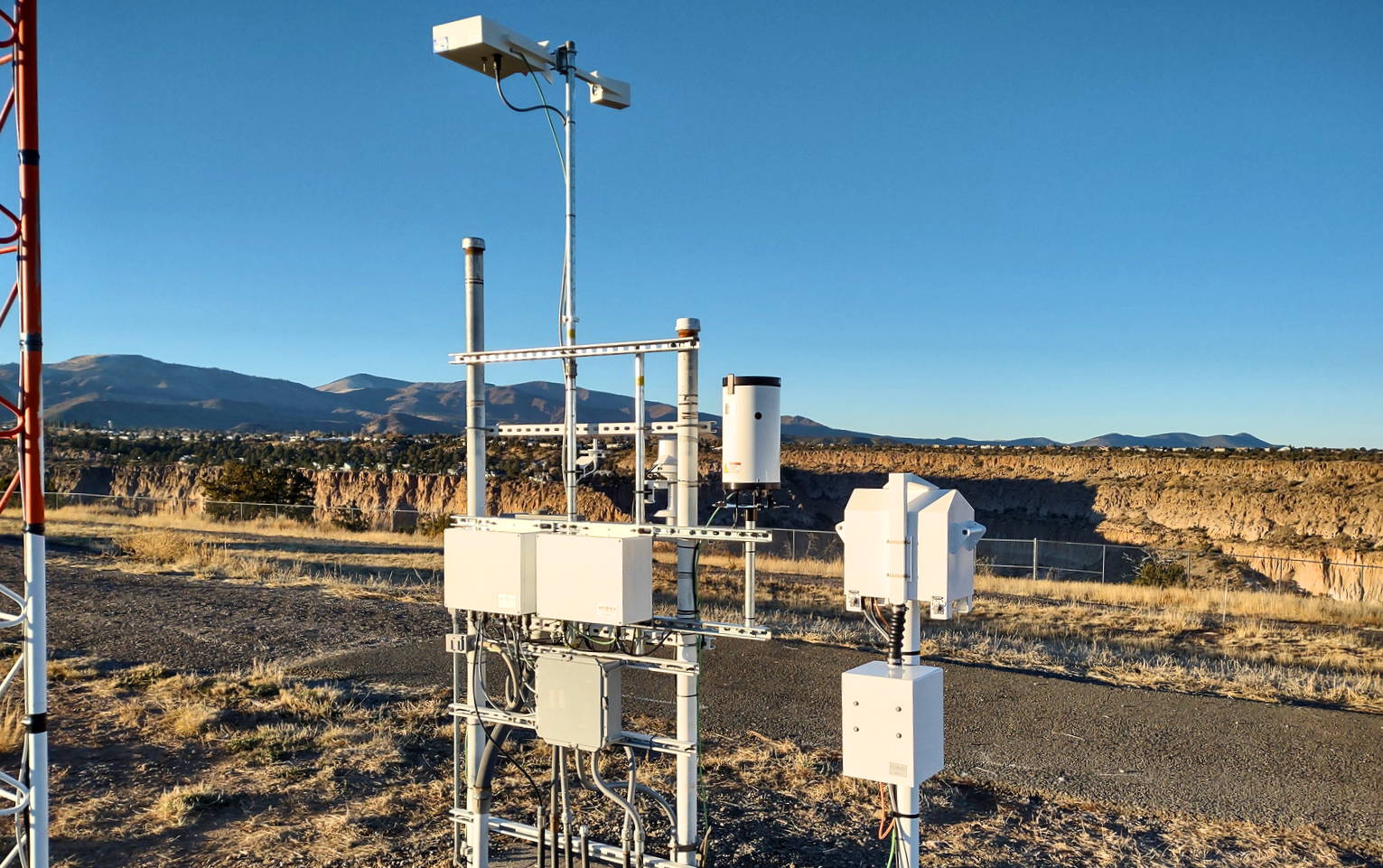 Situated atop of a canyon, Mesotech AWOS-3PT installation Los Alamos County Airport (KLAM)
Keegan Martin / Mesotech International, Inc.
Los Alamos County Airport is a county-owned public-use airport located one nautical mile east of the central business district of Los Alamos and covers 89 acres. The airport has one paved asphalt runway and sits at an elevation of 7,171 feet (2,186 meters) above mean sea level. The asphalt runway is designated as 9/27 and measures 6000 x 120 feet (1829 x 37 meters). 
Situated atop a canyon, the Los Alamos County Airport presents a challenge to pilots. With restricted airspace immediately to the south of the runway and a noise-sensitive residential area to the west, the airport employs a non-standard traffic pattern. All takeoffs are to the east on runway 9 and all landings are to the west on runway 27, regardless of wind conditions. This often results in gusty crosswinds, particularly in the spring. Couple this with the rugged terrain off the east of the runway and the airport has a well-earned reputation as a challenging airport at which to land. The new Mesotech AWOS will provide improved and accurate wind readings and assist pilots with this challenge.
About Mesotech International, Inc. 
Mesotech International, Inc. is based in Sacramento, CA and has designed, manufactured, and installed meteorological monitoring systems for over 30 years. Mesotech's flagship product is Airport Weather Advisor®, an FAA certified and ICAO-compliant Automated Weather Observing System (AWOS). Airport Weather Advisor® enhances flight safety for civil and military aviation through accurate, reliable automated weather reports delivered to pilots in the air and worldwide via Mesotech's AWOS Live cloud platform. Mesotech is a US Air Force prime contractor, supporting 200+ military sites worldwide and was awarded Region IX Small Business Prime Contractor of the Year in 2014.

→ Connect with Mesotech International, Inc. on LinkedIn, Facebook, and Twitter.