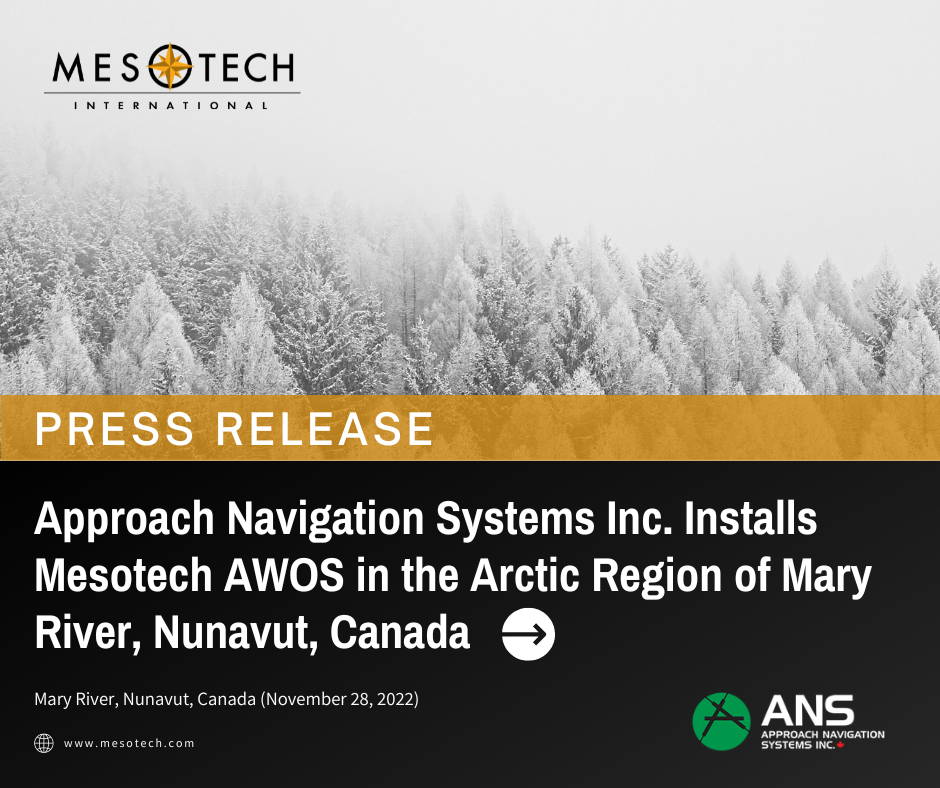 Mary River, Nunavut, Canada (November 28, 2022) – Approach Navigation Systems Inc. installed a new Mesotech Airport Weather Advisor® AWOS-3P Automated Weather Observing System (AWOS) at the Mary River Aerodrome (CMR2) in the arctic region of Mary River, Nunavut, Canada on November 28, 2022. Airport Weather Advisor® is the flagship product of Mesotech International, Inc., a Sacramento, California-based manufacturer of meteorological instrumentation systems.  
The new AWOS supports aviation safety by providing automatic, up-to-the-minute weather reports to pilots via radio, telephone, or the internet and is monitored remotely by Approach Navigation's support staff to ensure the system operates properly year-round. Mesotech and Approach Navigation have been partnered to supply AWOS systems throughout Canada and have over a dozen systems installed nationwide. 
An AWOS-3P monitors wind, temperature, relative humidity, barometric pressure, visibility, sky condition, and precipitation. Accurate weather data is critical in arctic regions where flying conditions often include extremely low temperatures, frequent meteorological changes, and Polar Nights. Mesotech supplies weather data from their AWOS systems through their cloud-based AWOS Live weather platform app. AWOS Live allows anyone with an internet-connected computer or mobile device to view live streaming weather data from the airport.   
Mary River is located on Baffin Island in the Qikiqtaaluk Region of Nunavut and has a 4,000-year-long history with the Inuit people. For hundreds of years, the semi-nomadic Inuit from the region met at Mary River during the summer to hunt caribou. In 1962 a rich iron ore deposit was found by Murray Edmund Watts, a Canadian mining engineer and prospector, and Ron Sheardown. Since 2014 the Baffinland Iron Mines Corporation has run the open pit iron ore mine at Mary River. Canada has nearly 42% of the global iron ore resources; in 2017, Canadian iron ore mines produced 49 million tons of iron ore in concentrate pellets and 13.6 million tons of crude steel. 
The Mary River Aerodrome offers charter flights by the mining company and brings in passengers and cargo to the base area. The aerodrome has one medium-length gravel runway and sits at an elevation of 589 feet (180 meters) above mean sea level. The runway is designated as 12/30 and measures 6505 x 148 feet and can handle great weight due to the mining equipment which regularly flies into and out of the aerodrome. 
About Mesotech International, Inc.    
Mesotech International, Inc. is based in Sacramento, CA, and has designed, manufactured, and installed meteorological monitoring systems for over 30 years. Mesotech's flagship product is Airport Weather Advisor®, an FAA-certified and ICAO-compliant Automated Weather Observing System (AWOS). Airport Weather Advisor® enhances flight safety for civil and military aviation through accurate, reliable automated weather reports delivered to pilots in the air and worldwide via Mesotech's AWOS Live cloud platform. Mesotech is a US Air Force prime contractor, supporting 200+ military sites worldwide, and was awarded Region IX Small Business Prime Contractor of the Year in 2014.  

→ Connect with Mesotech International, Inc. on LinkedIn, Facebook, and Twitter.

About Approach Navigation Systems Inc. 
Approach Navigation Systems is based in Moncton, New Brunswick, and supplies, installs and maintains navigation, weather, and communication systems for Canada's aviation, marine, and highway sectors. ANS Inc. offers technical consulting services for the safe, efficient movement of aircraft, marine vessels, and highway traffic globally. They serve as the first point of contact for all aviation requirements at many private airports located at mining projects throughout Canada. 
 
→ Connect with Approach Navigation Systems, Inc. on LinkedIn and Facebook.