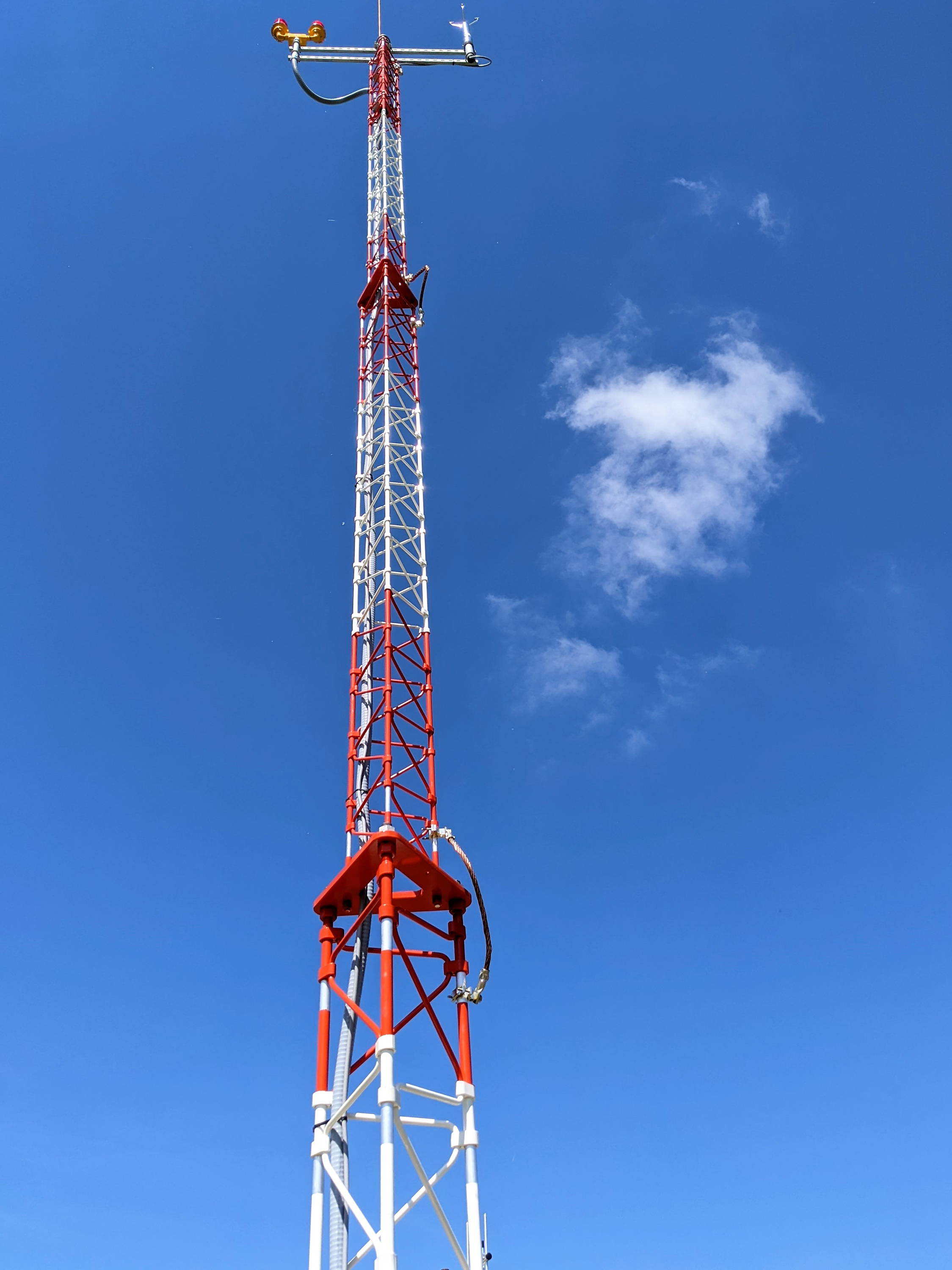 Mesotech AWOS Installation at General DeWitt Spain Airport, Memphis, Tennessee
Michael Musick / Mesotech International, Inc.
Memphis, Tennessee (July 28, 2022) – Mesotech International, Inc. installed and commissioned an Airport Weather Advisor® AWOS IV Z Automated Weather Observing System (AWOS) at the General DeWitt Spain Airport (KM01) on July 28, 2022. Airport Weather Advisor® is the flagship product of Mesotech International, Inc, a Sacramento, California based manufacturer of meteorological instrumentation systems. The AWOS supports aviation safety by providing up to the minute weather reports to pilots via radio, telephone, and the internet.   
The new Airport Weather Advisor® installation replaces an obsolete system and brings new capabilities to the airport. The advanced AWOS IV Z system includes freezing rain detection - a rare capability for general aviation airports. The Airport Weather Advisor system also includes a live data feed to Mesotech's AWOS Live cloud platform, bringing up-to-the-second weather data from KM01 to computers and mobile devices worldwide. The installation was completed by Mesotech with the assistance of Remote Systems Integration (RSI). RSI provides airfield navigation, weather, and communications systems installations and maintenance for secondary and general aviation airfields.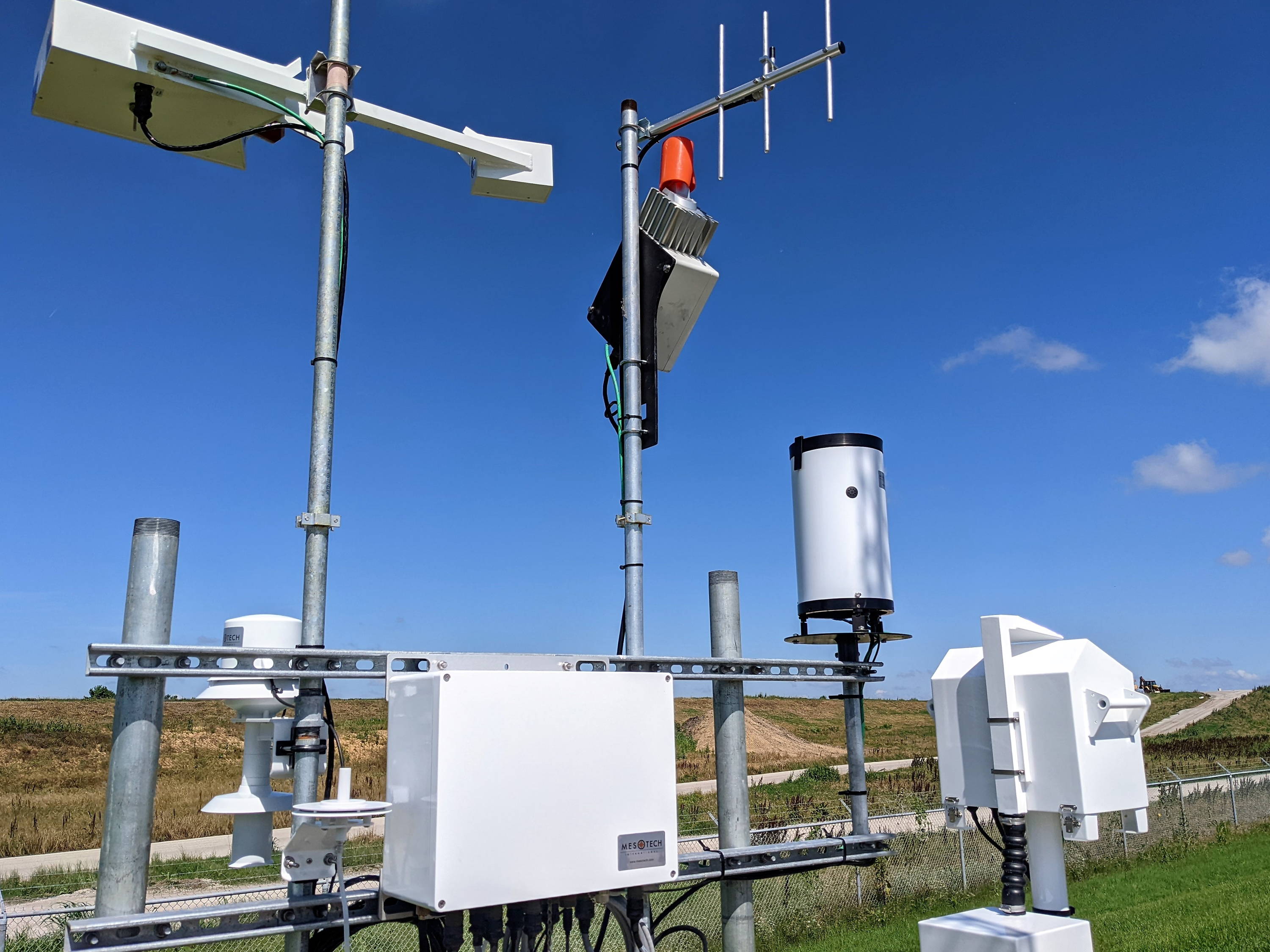 Mesotech AWOS Equipment Installation with RSI, LLC at General DeWitt Spain Airport, Memphis, Tennessee
Michael Musick / Mesotech International, Inc.
Memphis Tennessee is the largest city boarding the Mississippi River and is one of the nation's leading commercial centers in transportation and logistics. But when people think of Memphis, they think of the music. Memphis is a center for media and entertainment with a notable and historic music scene from the blues clubs on Beale Street which gave the city it's nickname "Home of the Blues" to the country, rock and roll, soul, and hip-hop. While in the city, visit the National Civil Rights Museum, a Smithsonian affiliate institution, or see the Grizzlies play in the NBA, or visit Elvis's Presley's home Graceland and enjoy some famous Memphis-Style Barbeque competing int eh annual World Championship Barbecue Cooking Contest, which attracts over 100,000 visitors every year.
The General DeWitt Spain Airport, named for the local war hero who died in 1969, is a civil public airport owned and operated by the Memphis-Shelby Country Airport Authority and is located five miles northwest from the central business district of Memphis. The airport is the home of Downtown Aviation, an extensive maintenance service and a flight school with pilot training and aircraft rental services. Courses offered include learning aerobatics and flying tail-wheel airplanes. The airport has one paved asphalt runway and sits at an elevation of 224 feet above mean sea level. The runway is identified as 17/35 and measures 3,000 x 75 feet (1158 x 23 meters) and has a weight limitation for single wheel of 25,000lbs. The new Mesotech AWOS system will help keep the aerobatic flying high and safely for years to come, no matter what the weather throws at them. 
About Mesotech International, Inc. 
Mesotech International, Inc. is based in Sacramento, CA and has designed, manufactured, and installed meteorological monitoring systems for over 25 years. Mesotech's flagship product, Airport Weather Advisor®, is an FAA-certified, ICAO compliant, and USAF approved Automated Weather Observing System (AWOS) for airports and military airfields. Awarded Small Business Prime Contractor of the Year (Region IX) in 2014, Mesotech is a US Air Force prime contractor who provides new systems, engineering, and logistics support for over 200 military installations worldwide.