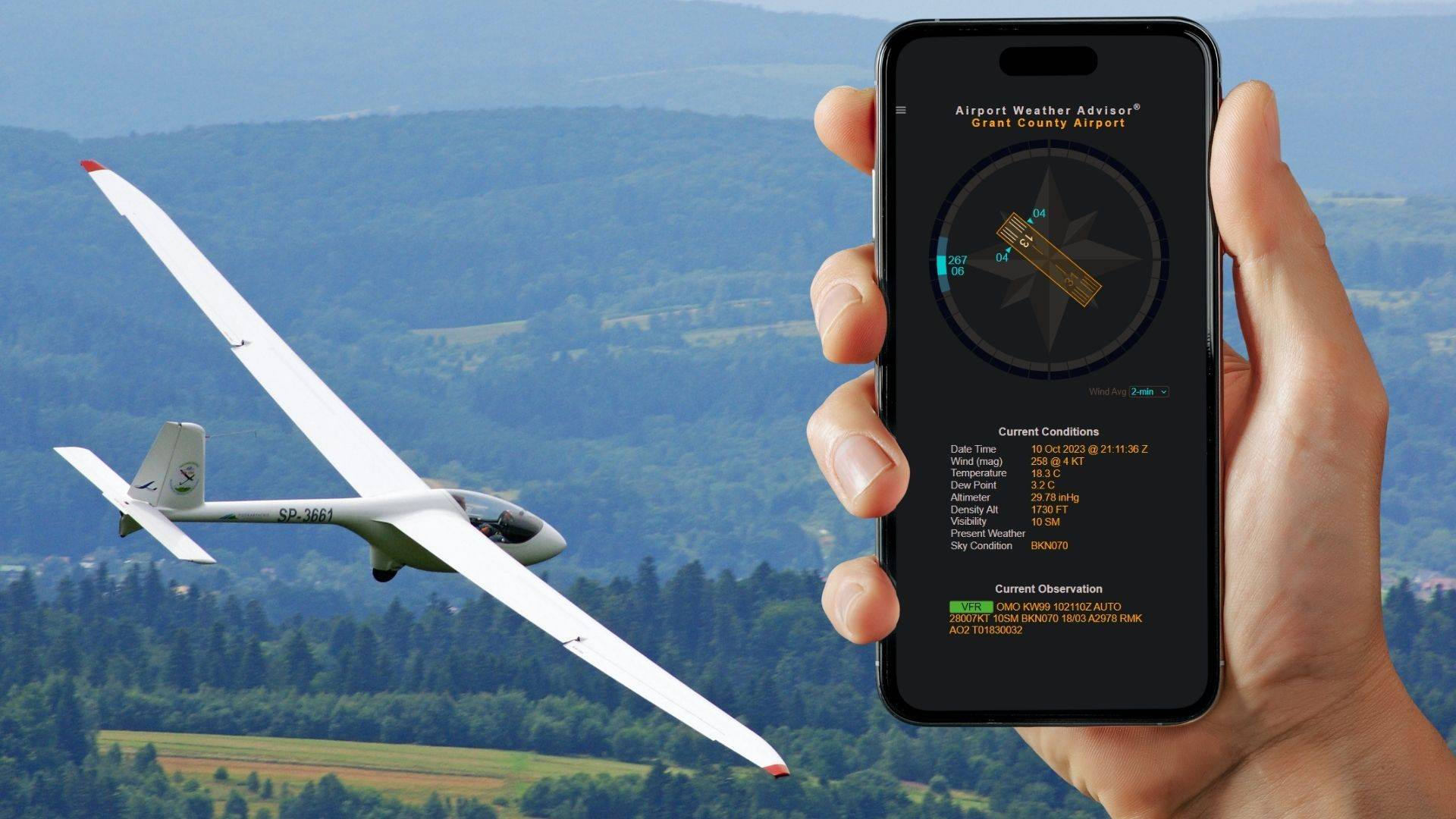 AWOS Live displaying live weather from Grant County Airport (KW99) next to a glider.
Konrad Wojciechowski
Petersburg, West Virginia (October 5, 2023) – The Grant County Airport (KW99) in Petersburg, West Virginia has installed the Mesotech Airport Weather Advisor™ Automated Weather Observing System (AWOS) IIIPT. It was commissioned by the FAA on October 5, 2023, and the installation was performed by Automated Weather Specialties, Inc.  
Airport Weather Advisor™ is the flagship product of Mesotech International, Inc., a Sacramento, California-based manufacturer of meteorological instrumentation systems. The new AWOS supports aviation safety and operational efficiency by providing automatic, up-to-the-minute weather reports to pilots via radio, telephone, or the internet. The system is monitored remotely by Mesotech's engineers to ensure the system operates properly year-round and live data in the palm of your hand can be found through the web-based app AWOS Live. Live weather from Grant County Airport can be accessed via KW99.AWOS.LIVE. 
Grant County Airport, nestled beside the scenic Potomac River and Cave Mountain, is a general aviation airport and serves as a home-base for the Eastern Soaring Center, a premier hub for glider training and flights in West Virginia. Beyond facilitating flights, the airport invites aviation enthusiasts to its signature "Fly and Tie" camping site, blending aviation with adventure and offering top-notch facilities for guests. The airport also periodically hosts specialized military nighttime exercises. Serving as an integral link to the state's thriving forestry sector, Grant County Airport is among West Virginia's 17 general aviation facilities. These hubs, essential for diverse tasks from emergency responses to business ventures, are recognized for their role in driving economic progress. As underscored by the 2020 West Virginia Aviation Economic Impact Study, such facilities are instrumental in job generation, boosting business revenues, and contributing a significant annual tax impact of $75.5 million to the state's economy. The new AWOS will ensure safety and airport efficiency for years to come. 
The Mesotech AWOS provides real-time monitoring and remote support for all their AWOS systems from their base in Sacramento. Support calls are answered by technicians and engineers who have designed, built, and installed the system. Systems are monitored remotely through Mesotech's innovative and groundbreaking new product, AWOS Live, which allows you to securely stream airport weather data from the ground or in the skies directly to your phone. With Mesotech's support, Grant County Airport will continue to thrive. 
About Mesotech International, Inc. 
Mesotech International, Inc. is based in Sacramento, CA and has designed, manufactured, and installed meteorological monitoring systems for over 25 years. Mesotech's flagship product, Airport Weather Advisor®, is an FAA-certified, ICAO compliant, and USAF approved Automated Weather Observing System (AWOS) for airports and military airfields. Awarded Small Business Prime Contractor of the Year (Region IX) in 2014, Mesotech is a US Air Force prime contractor who provides new systems, engineering, and logistics support for over 200 military installations worldwide.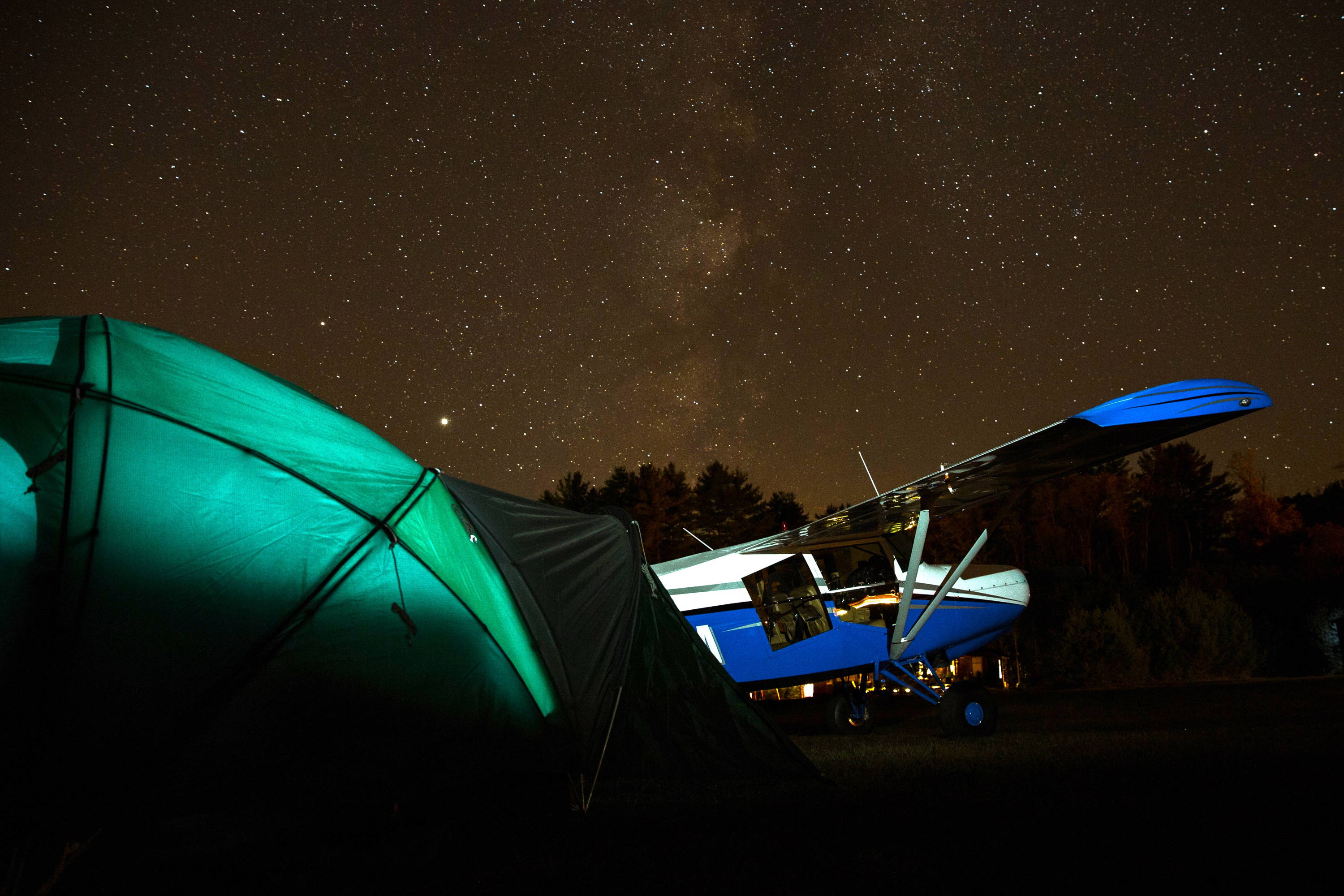 An example of the unique "Fly and Tie" camping experience at Grant County Airport.
Kristina Delp