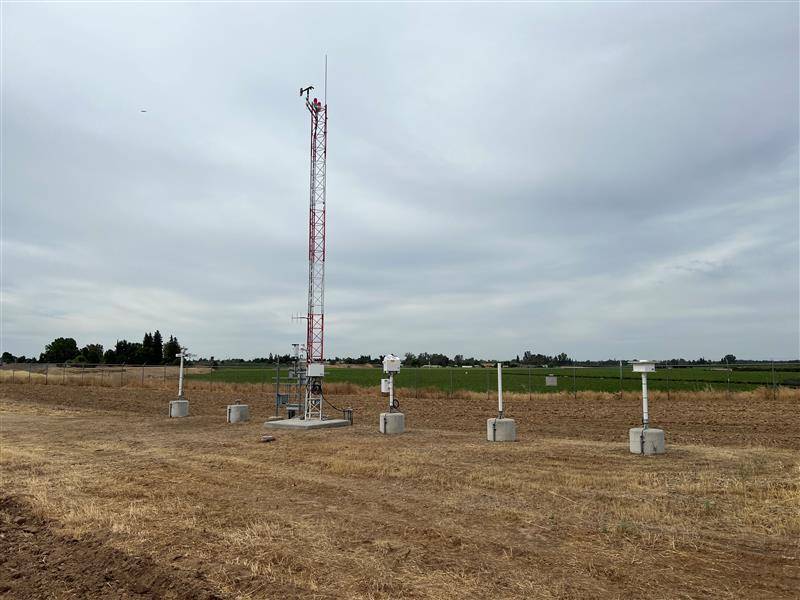 Mesotech AWOS Installation at Reedley Airport, Reedley, California.
Tyler Slavich / Mesotech International, Inc.
Reedley, Calif. (June 17, 2022) – Mesotech International, Inc. installed and commissioned an Airport Weather Advisor® AWA-30PT Automated Weather Observing System (AWOS) at Reedley Municipal Airport (KO32) on June 17, 2022. Airport Weather Advisor® is the flagship product of Mesotech International, Inc, a Sacramento, California based manufacturer of meteorological instrumentation systems. The AWOS supports aviation safety by providing up-to-the-minute weather reports to pilots via radio, telephone, and the internet.    
The new Airport Weather Advisor® installation was completed by Mesotech's installation team with the help of AVCOM Company, a Washington based business which provides consulting, engineering, sales, service, and maintenance for navigation aides, aviation weather reporting equipment and systems, and air traffic control towers. The new AWOS IIIPT replaces an existing obsolete system and brings new capabilities to the Reedley airport while saving the community money by making use of the existing infrastructure already installed at the airport. 
Reedley, California is known as the World's Fruit Basket. The town was founded in the mid-1800s by Thomas Law Reed, an American Civil War Union Veteran who the town takes its name from. Reedley was settled as a place to grow wheat for the Gold Rush miners of California. When gold mining fever began to wane, the local crops were diversified to include grapes, figs, and peaches; fruits which still form the backbone of the agricultural city. Today, the city has a small town feel and hosts the annual Electrical Farm Equipment Parade every Christmas season and hosts musicals and stage plays in the historic Jansen Opera House. 
The Reedley Municipal Airport is a public airport located in Reedley, California. The airport serves southeast Fresno County and northeast Tulare County. The airport has one paved asphalt runway and covers 138 acres at an elevation of 383 feet above mean sea level. The runway is identified as 15/33 and measures 3,300 x 60 feet (1,006 x 18 meters). The airport has 21 single-engine aircraft based at it and during the 12-month period ending in January 2020 it logged over 33,000 operations. The new Mesotech AWOS system will support the existing general aviation operations at the airport and provide crucial weather data.  
About Mesotech International, Inc. 
Mesotech International, Inc. is based in Sacramento, CA and has designed, manufactured, and installed meteorological monitoring systems for over 25 years. Mesotech's flagship product, Airport Weather Advisor®, is an FAA-certified, ICAO compliant, and USAF approved Automated Weather Observing System (AWOS) for airports and military airfields. Awarded Small Business Prime Contractor of the Year (Region IX) in 2014, Mesotech is a US Air Force prime contractor who provides new systems, engineering, and logistics support for over 200 military installations worldwide.