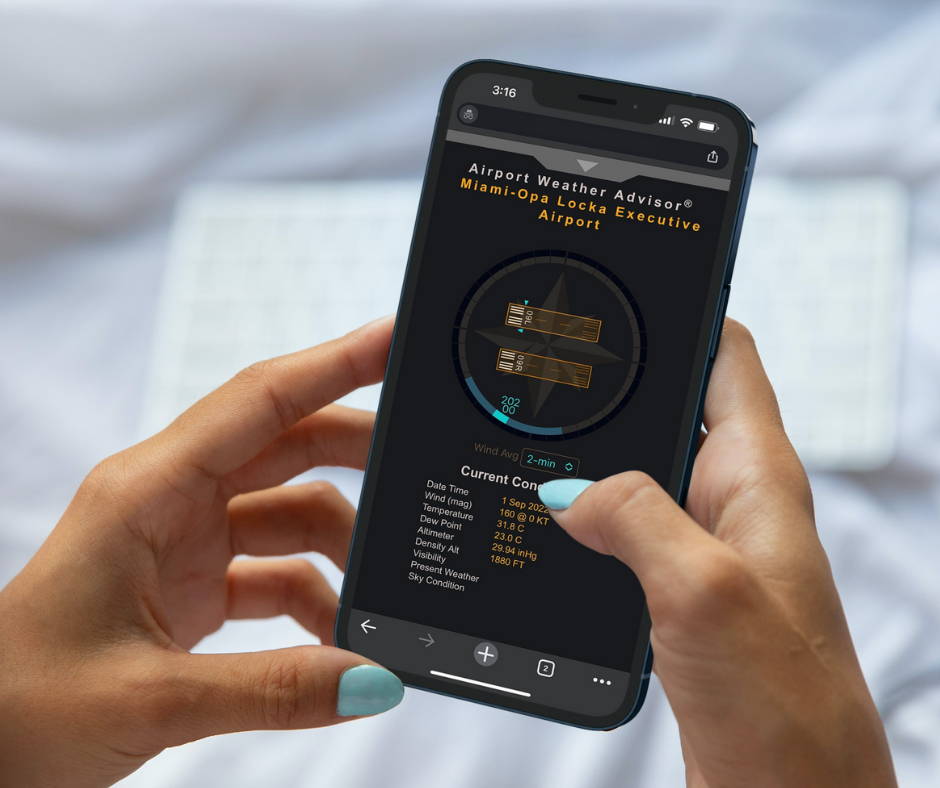 Opa-Locka, Florida (August 30, 2022) – Mesotech International, Inc. installed an Airport Weather Advisor® Automated Weather Observing System (AWOS) at Miami Opa-Locka Executive Airport (OPF) in Opa-Locka, Florida on August 30, 2022. Airport Weather Advisor® is the flagship product of Mesotech International, Inc, a Sacramento, California based manufacturer of meteorological instrumentation systems. The AWOS provides critical weather data to air traffic controllers (ATC) at OPF and feeds data to Mesotech's AWOS live cloud platform, allowing users to access the data from internet connected computers and mobile devices.  
Miami Opa-Locka Executive Airport has a federally maintained Automated Surface Observing System (ASOS) that serves as the primary automated weather system at the airport. Airports like Opa-Locka are required to have backup weather instruments to allow continued flight operations if the primary observing system fails. At most airports, antiquated standalone weather instruments and displays are used to meet the backup requirements. Mesotech is revolutionizing the backup weather system space by providing a complete automated backup system with live factory-status monitoring, remote maintenance capabilities, a cloud-based data platform, and integrated displays specifically for ATC.
"When primary systems fail, ATC needs to be able to rely on the backup data. With our live factory monitoring, the airport can trust that the backup system is always ready to go," - Chris Swinehart of Mesotech.  
The Mesotech model AWA-10 system provides wind speed, direction, altimeter, temperature, and dewpoint information at multiple positions in the ATC tower. The displays are designed specifically to meet the needs of air traffic controllers. The AWA-10 system is modular and upgradeable, giving the airport the option of adding additional sensing capabilities in the future including visibility, present weather, precipitation accumulation, sky condition, thunderstorm, and freezing rain detection should they wish to expand their backup system's capabilities.  
The Miami Opa-Locka Executive Airport is a joint civil-military airport located in  Miami-Dade County, Florida, roughly 11 miles north of downtown Miami. The airport has 3 asphalt runways and covers 1,880 acres at an elevation of 8 feet. The airport is supported by an FAA-contract control tower which is manned from 7:00 AM to 11:00 PM. For the year ending May 24, 2017, the airport had 147,638 operations with an average of 404 per day. The airport has a long history of supporting both civil and military aviation and in 1967 was the world's busiest airport with over 650,000 flight operations.
About Mesotech International, Inc. 
Mesotech International, Inc. is based in Sacramento, CA and has designed, manufactured, and installed meteorological monitoring systems for over 25 years. Mesotech's flagship product is Airport Weather Advisor®, an FAA certified and ICAO-compliant Automated Weather Observing System (AWOS). Airport Weather Advisor® enhances flight safety for civil and military aviation through accurate, reliable automated weather reports delivered to pilots in the air and worldwide via Mesotech's AWOS Live cloud platform. Mesotech is a US Air Force prime contractor, supporting 200+ military sites worldwide and was awarded Region IX Small Business Prime Contractor of the Year in 2014.

→ Connect with Mesotech International, Inc. at www.mesotech.com and on LinkedIn, Facebook, and Twitter.