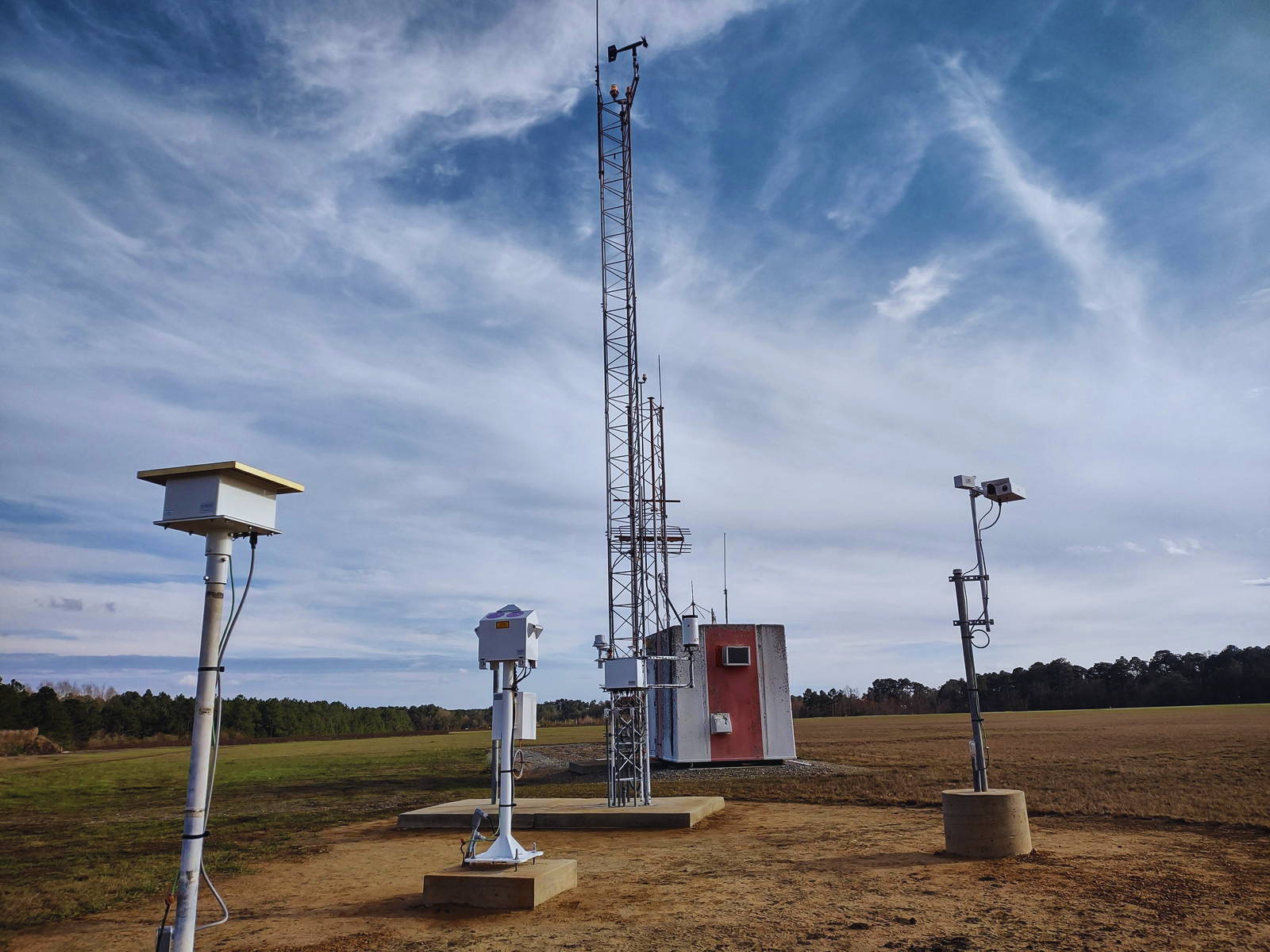 Mesotech AWOS IIIPT installation at Henry Tift Myers Airport (KTMA) in Tifton, Georgia
Keegan Martin / Mesotech International, Inc.
Tifton, Georgia (February 17, 2023) – Mesotech commissioned a new Airport Weather Advisor® AWOS-3PT Automated Weather Observing System (AWOS) at Henry Tift Myers Airport (KTMA) in Tifton, Georgia on February 17, 2023.


Airport Weather Advisor® is the flagship product of Mesotech International, Inc., a Sacramento, California-based manufacturer of meteorological instrumentation systems. The new AWOS supports aviation safety by providing automatic, up-to-the-minute weather reports to pilots via radio, telephone, or the internet, and is monitored remotely by Mesotech's support staff to ensure the system operates properly year-round.  
Tifton Georgia is a progressive small city with a huge dose of Southern hospitality and a strong history of agriculture. Founded in 1872, this central Georgia city is located at the crossroads of the state and offers travelers a variety of local festivals and activities to do. Whether it's visiting the living Georgia Museum of Agriculture and Historic Village, the Paradise Public Fishing Area, or the Tift Theatre for Performing Arts – Tifton Gregoria has something for everyone's interest. Plan your visit so you can attend the annual Rhythm and Ribs BBQ Festival or the Omega Pepper Festival and help yourself to some perfect you-pick peaches, blueberries, strawberries, or tomatoes depending on the season.


Henry Tift Myers Airport is a public-use airport located two nautical mile southeast of the central business district of Tifton and covers 826 acres. The airport has two paved asphalt runways designated 15/33 which is 5,500 x 100 feet (1,678 x 30 meters) and 10/28 which is 3,805 x 75 feet (1,160 x 23 meters) and sits at an elevation of 335 feet (108 meters) above mean sea level. The airport is named for Lt. Col. Henry Tift Myers who served as the first presidential pilot, piloting The Sacred Cow for President Roosevelt. Tift Meyers also helped design The Independence for President Truman.
---
With the new Mesotech AWOS, the Tifton community will have improved and accurate weather reports as well as keep business dollars strengthening the local community.  
Mesotech partners with third-party maintainers to install and maintain their AWOS systems across the country. These partnerships mean airports always have a highly skilled technician on hand to keep their system running with the full support of Mesotech's remote monitoring to back them up. Working with local maintainers save airports not only time, but money on installations, and routine maintenance throughout the year. Local maintainers are known to their communities and the airports they service and are a trusted and familiar face to represent Mesotech.
---
About Mesotech International, Inc. 
Mesotech International, Inc. is based in Sacramento, CA, and has designed, manufactured, and installed meteorological monitoring systems for over 30 years. Mesotech's flagship product is Airport Weather Advisor®, an FAA-certified and ICAO-compliant Automated Weather Observing System (AWOS). Airport Weather Advisor® enhances flight safety for civil and military aviation through accurate, reliable automated weather reports delivered to pilots in the air and worldwide via Mesotech's AWOS Live cloud platform. Mesotech is a US Air Force prime contractor, supporting 200+ military sites worldwide, and was awarded Region IX Small Business Prime Contractor of the Year in 2014.  

→ Connect with Mesotech International, Inc. on LinkedIn, Facebook, and Twitter.