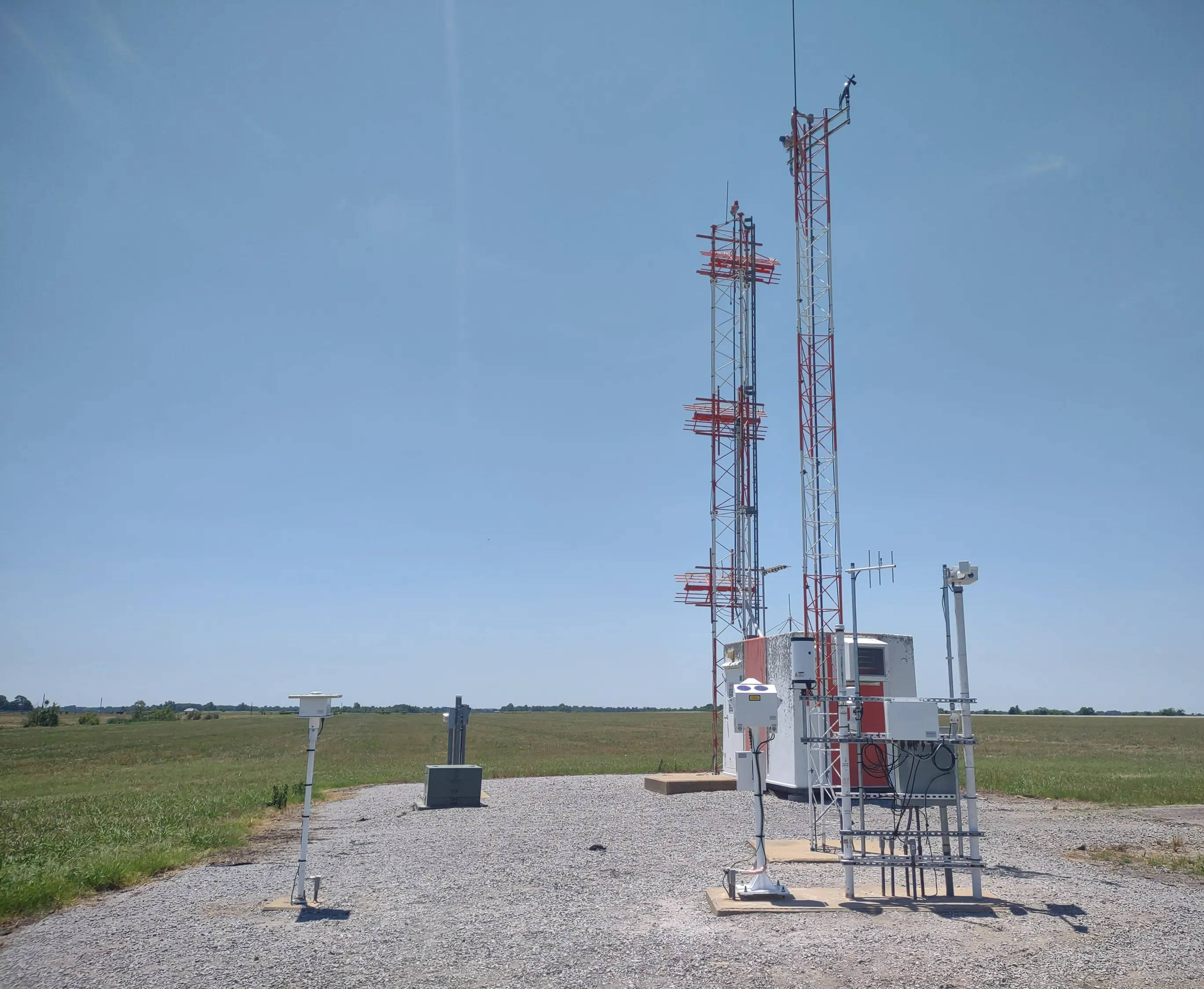 Mesotech AWOS Installation at Tunica Airport, Tunica, Mississippi
Keegan Martin / Mesotech International, Inc.
Tunica, Mississippi (June 24, 2022) – Mesotech International, Inc. installed and commissioned an Airport Weather Advisor® AWA-30PT Automated Weather Observing System (AWOS) at Tunica Municipal Airport (KUTA) on June 24, 2022. Airport Weather Advisor® is the flagship product of Mesotech International, Inc, a Sacramento, California based manufacturer of meteorological instrumentation systems. The AWOS supports aviation safety by providing up-to-the-minute weather reports to pilots via radio, telephone, and the internet. Data from the system is available through the FAA Aviation Weather Center, via radio or telephone, as well as through Mesotech's AWOS Live cloud-enabled aviation weather platform. 
The new Airport Weather Advisor® installation was completed by Mesotech with the assistance of Remote Systems Integration (RSI) who will be maintain the system going forward. RSI provides airfield navigation, weather, and communications systems installations and maintenance for secondary and general aviation airfields. Remote System Integration's technicians have over 40 years of combined experience with a client base of over 100 airports across the American south. 
Tunica, Mississippi is the county seat of Tunica County located in the Mississippi Delta region, roughly 20 miles south of Downtown Memphis, Tennessee. Since 1990, Tunica has built several thriving casinos lining the Mississippi River which employ numerous locals and bring a healthy thriving tax base to the area. Nestled between the mighty Mississippi River and the "Blues Highway," Tunica is a vacation destination for visitors from across the South-Eastern United States with vibrant and charming delta community, giving them their motto "A Good Place to Live". 
The Tunica Municipal Airport is a public use airport located one nautical mile east of the central business district of Tunica, Mississippi and is owned by the Tunica County Airport Commission. The airport has one paved asphalt runway and covers 863 acres at an elevation of 194 feet above mean sea level. The runway is identified as 17/35 and measures 8,500 x 150 feet (2,591 x 46 meters). Tunica Airport opened in 2003 with a 5,500-foot runway which was later expanded in 2004 to 7,000 feet and again in 2010. In 2007 the airport had nearly 50,000 charter passengers for the casino industry. By 2011, there were at least 10 aircraft based at the airport and 10,257 operations with an average of 28 per day. The new Mesotech AWOS is the latest improvement to the airport and will support the existing general aviation operations at the airport by providing crucial weather data.   
About Mesotech International, Inc.   
Mesotech International, Inc. is based in Sacramento, CA and has designed, manufactured, and installed meteorological monitoring systems for over 25 years. Mesotech's flagship product, Airport Weather Advisor®, is an FAA-certified, ICAO compliant, and USAF approved Automated Weather Observing System (AWOS) for airports and military airfields. Awarded Small Business Prime Contractor of the Year (Region IX) in 2014, Mesotech is a US Air Force prime contractor who provides new systems, engineering, and logistics support for over 200 military installations worldwide.